About the Artist
Silvia was born in Pleven, Bulgaria in 1970 and won a place at the School of Applied Arts at Troyan at the age of 13. She graduated in 1989 and then studied icon painting in Sofia under the tuition of Georgi Tchouchev and was invited to exhibit her work in Alexander Nevsky Cathedral, Sofia, amongst the elite group of icon painters.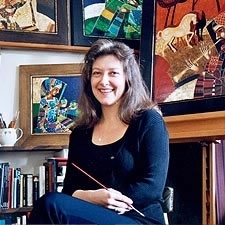 She held a successful one-woman exhibition in Paris, in the Cultural Centre Edmond Rostand, Rueil-Malmaison in 1997. In the spring of 1999 she was commissioned by Downside Abbey to paint the Icon of St Benedict. At the beginning of 2000 Silvia worked as an artist-in-residence at Wells Cathedral with a commission to paint the Fourteen Stations of the Cross as a project for the Millennium. During this time she was also nominated and shortlisted for the European Women of Achievement Awards 2000 for contributions to the Arts. Since then Silvia has been working on both private and public commissions including St Paul's Cathedral, London and Hertford College, Oxford, Bishop's Palace, Wells and St Peter's, Eaton Square.
She works in the traditional technique of icon painting - egg tempera on wood, and her work covers the whole spectrum of traditional Bulgarian icons and original work.
'Silvia's icons express the continuing vitality of an ancient tradition of religious art. Following the rules of her discipline, their colour and attention to detail bring the saints and the mysteries of our faith to life in our own day. Her first icon in this country, the icon of St Benedict, was a new departure bringing Eastern iconography to a fresh understanding of the life of the patron of Western monasticism.' Dom David Foster OSB.
As well as Icons Silvia paints more secular pictures, using the same techniques.
'Her pictures embrace joyously colourful patterns, magical symbolism and deep serenity. They articulate a world of inner light and love, of a poetically mystical life that is both of nature and of humanity. It is an inspirational view of a painter who uses her ancient national traditions to celebrate the beauty and joys of life within the contemporary world.' Richard Leachman - Artworlds.
© 2023 Silvia Dimitrova / Melchior